Jurassic World: Dominion Dominates Fandom Wikis - The Loop
Play Sound
 Vladimir Galchenko[1] (born September 15, 1987),[2] known as Vova,[1] is a juggler originally from Penza, Russia.[2]
Vova and his sister Olga moved to the United States in 2003, where they received training from Jason Garfield.[3] The Galchenkos went on to break four world records in club passing[4][5] and win seven IJA and WJF club passing competitions.[6][7]
Vova won the IJA Individuals Stage Competition in 2008,[8] and the WJF Overall Championship in 2011.[9] He was on Luke Burrage's Top 40 Most Popular Jugglers chart every year from 2003 to 2013.[10] He ranked 2nd on the list in 2006.[11]
World records
[
]
Records with publicly available video evidence:
Most connected 6 ring 4 up 360s: 2 in 2007 (video)
Records set in WJF competition:[7]
Former club passing world records by Vova and Olga Galchenko:[4][5]
9 clubs: 676 passes caught
10 clubs: 378 passes caught
11 clubs: 152 passes caught
12 clubs: 54 passes caught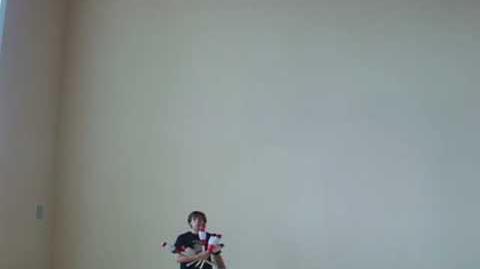 Competitions
[
]
Vova won the following IJA and WJF competitions.[6][7]
IJA 2003:
IJA 2004:
WJF 2004:
Advanced Clubs
5 Club Freestyle[12]
3 Club 360s
5 Club 360s
IJA 2005:
WJF 2005:
Advanced Clubs
Club Endurance
3 Club 360s
5 Club 360s
Challenge Competitions:[13]
5 Club Low 360s
3 Club Low 720s
WJF 2006:
5 Ball Freestyle
7 Ball Freestyle
3 Club Freestyle
5 Club Freestyle
Club Endurance (second person ever to juggle 7 clubs for over 100 catches in competition)
5 Ball 360s (tied with Thomas Dietz)
3 Club 360s
5 Club 360s
Challenge Competitions:[14]
5 Club Low 360s
3 Club Low 720s
7 Ball Isolated Endurance
7 Club Isolated Endurance
IJA 2007:
Numbers: Solo Clubs
Numbers: Club Passing with Peter Kaseman
Numbers: 3-Person Club Passing with

Tsushi

&

Takashi Kikyo
WJF 2007:
Advanced Clubs
5 Ball Freestyle
3 Club Freestyle
5 Club Freestyle
Club Endurance[15]
7 Club Isolated Endurance
5 Club Backcross Isolated Endurance
3 Club 360s
5 Club 360s
IJA 2008:
WJF 2008:
Advanced Clubs
6 Club Freestyle
7 Club Freestyle
Ring Endurance (tied with Thomas Dietz)
Club Endurance
7 Club Isolated Endurance
5 Club Backcross Isolated Endurance
5 Ball 360s (tied with Thomas Dietz)
3 Club 360s
5 Club 360s[16]
Triathlon
WJF WinterBlitz 2009:[17]
Advanced Balls
Advanced Rings
3 Club Freestyle
4 Club Freestyle
6 Club Freestyle
7 Club Freestyle
WJF 2011:
3 Club Freestyle
5 Club Freestyle
6 Club Freestyle
7 Club Freestyle
Club Endurance
7 Club Isolated Endurance
3 Club 360s
5 Club 360s
References
[
]