Vincent Bruel (1973-2005) was a French juggler who started juggling in 1988. He performed with several juggling groups including Triplex (with Peter Biondi and Lionel About), Vis-à-Vis (with Lionel About), and The Flying Objects (with Sylvain Garnavault and Denis Paumier).
Vincent was one of the first French jugglers to explore mathematical juggling notation systems such as siteswap, and to apply the concepts to bounce juggling. In 2002, he co-directed and edited a 2-hour bounce juggling video called Bouncing in Paris.[1][2]
Vincent Bruel and Sylvain Garnavault formerly held the world records for bounce passing 11 balls (6 minutes and 12 seconds) and 15 balls (110 passes caught), and still hold the world record for bounce passing 13 balls (1 minute and 59 seconds).(video) These records were all set in 2004.[3][4]
Vincent unexpectedly committed suicide on January 17, 2005.[5][6][7]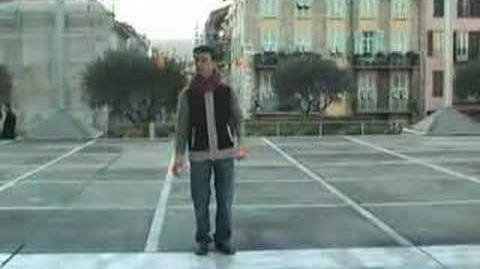 Community content is available under
CC-BY-SA
unless otherwise noted.