Toby Walker

2014 WJF Advanced Ring champion

Websites

Highest numbers juggled
 Toby Walker is a Welsh juggler who started juggling in 1989. He became the first person ever to successfully juggle 5 club Mills mess in 1998.[1]
World records
[
]
Records with publicly available video evidence: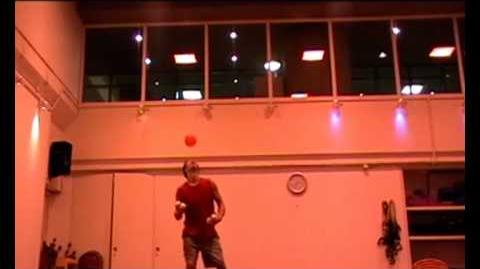 Competitions
[
]
Toby placed in the following WJF competitions.[2]
WJF 2004:
Advanced Clubs - 2nd place
Club Endurance - 1st place
WJF 2005:
Club Endurance - 2nd place
WJF 2006:
Advanced Balls - 3rd place
Club Endurance - 3rd place
5 Ball 360s - 3rd place
5 Club 360s - 3rd place
3 Club Freestyle - 3rd place
2007 WJF UK Open:
Advanced Balls - 1st place
Advanced Clubs - 1st place
7 Club Isolated Endurance - 2nd place
5 Club Backcross Isolated Endurance - 2nd place
6 Ball Freestyle - 3rd place
7 Ball Freestyle - 2nd place
4 Club Freestyle - 3rd place
5 Club Freestyle - 3rd place
WJF 2008:
Advanced Balls - 3rd place
5 Club Freestyle - 3rd place
6 Club Freestyle - 2nd place
7 Club Freestyle - 2nd place
7 Club Isolated Endurance - 3rd place
Overall Championship - 3rd place
WJF 2014:
Advanced Rings - 1st place
Advanced Clubs - 2nd place
5 Club Backcross Isolated Endurance - 2nd place
5 Ring Freestyle - 3rd place
6 Ring Freestyle - 1st place
7 Ring Freestyle - 3rd place
5 Club Freestyle - 3rd place
5 Club 360s - 3rd place
References
[
]