A slice is a multiplex throw where one of the objects is passed directly across to the other hand (written in siteswap notation with a 1 or 2x). This can be done by holding the catching hand above the throwing hand so that when the throw is made, one object goes straight up into the catching hand, and the other goes up past the catching hand and is caught on a later beat.
A 3 ball cascade with an extra ball passed back and forth at the bottom of the pattern using sliced multiplex throws (similar to a sprung cascade, but with the high and low throws that are made at the same time both coming from the same hand) could be written in siteswap as [31] or ([4x2x],2)*.
Video: Sliced backcrosses by Adam Kapilow
Video: 4 ball reverse slices (squeeze catches) - siteswap (4x,[22x])* - by Reuben Cohn-Gordon
Video: Sliced 441 by Norbi Whitney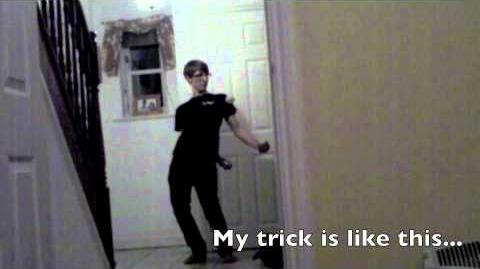 Community content is available under
CC-BY-SA
unless otherwise noted.