Sam Hartford (born in 1982), learned to juggle from a book at around age six, after seeing a performance by Will Soto.
At age 10, Sam was inspired to start training for numbers juggling after reading about Albert Lucas's world records in the Guinness Book of Records. At age 14 Sam was able to juggle 9 balls, and at age 17 he flashed 11. His goal is to be able to juggle more objects than anyone else on earth.[1]
World records
Edit
In 2002, Sam was the third person to flash 12 balls and the third person to flash 12 rings, and he is the only person who has done both. He submitted videos of those feats to JISCON in 2010, and both were confirmed as tied world records. (Those records have since been surpassed by Alex Barron and Willy Colombaioni.)[2]
In 2002, Sam was also the first person to flash 7 balls in
one hand
,
(video)
which several other people have now also done. Sam
claims
to have also done 7 rings in one hand for 9 catches.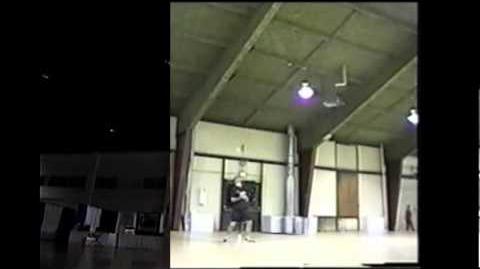 Competitions
Edit
Sam placed in the following IJA competitions.[3]
2000:
Games: 5 Ball Endurance - 1st place (IJA record: 43 minutes and 24 seconds)
2001:
Joggling: Men's Open 5 Ball 60 Meters - 2nd place
Joggling: Men's Open 3 Ball 400 Meters - 2nd place
Games: 5 Ball Endurance - 1st place
2002:
Numbers: Solo Balls - 1st place
Numbers: Ball Passing - 2nd place with Josiah Jones
Numbers: Ring Passing - 2nd place with Josiah Jones
Joggling: Men's Open 5 Ball 100 Meters - 2nd place
Joggling: Men's Open 3 Ball 100 Meters - 3rd place
Joggling: Men's Open 3 Ball 200 Meters - 3rd place
Joggling: Men's Open 3 Ball 1600 Meters - 3rd place
2003:
References
Edit