Nick Thomas is an American juggler from Rochester Hills, Michigan. He started juggling when he was nine.[1]
Nick holds the world record for 4 ball slow juggling: 63 catches in 1 minute, set in 2017.(video) He also unofficially holds the records for: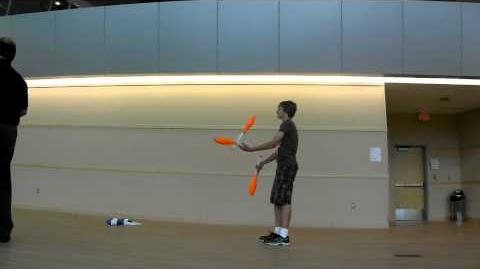 Nick placed in the following IJA and WJF competitions:[2][3]
WJF 2011:
IJA 2013:
eXtreme Juggling: 3 Rings - 1st place
eXtreme Juggling: 4-5 Rings - 1st place
IJA 2014:
IJA 2015:
Numbers: Solo Balls - 2nd place
IJA 2017:[4]
Individual Props: 3 Clubs - 3rd place
Games: Quarter Juggling - 1st place
Games: Huggling - 1st place with Jonah Botvinick-Greenhouse
Games: Simon Says - 1st place
IJA 2018:[5]
Community content is available under
CC-BY-SA
unless otherwise noted.