Luca Pferdmenges (born 24 August 2001) is a German juggler. He learned to juggle when he was 10. Luca is one of the few people to have qualified a 13 club passing pattern (video) and is considered one of the best passers in the world. He is also the youngest person to ever have flashed 11 balls, which he accomplished at age 13 (video).
He holds the following world records:
His other biggest achievements include:
Luca has participated in the Open Dutch Juggling Championships twice, scoring the following results:
2016:
Open Dutch Ring Juggling Champion
2017:
Open Dutch Ring Juggling Competition 3rd place
Open Dutch Club Juggling Competition 3rd place
Open Dutch Ball Juggling Competition 3rd place
5 Clubs Endurance Winner
Furthermore, he won the Skill-Night of the Aichtal Juggling Convention two years in a row (2016 & 2017) and came 3rd in the "Best Trick Competition" of the Israeli Juggling Convention 2018, as a duo with Daniel Ledel. At the European Juggling Convention 2017 in Lublin, Poland, Luca won both the 5 clubs and 7 balls endurance.
In 2016, Luca had his first performance with the passing team Jonglissimo. Three years later he moved to Linz, Austria to join Jonglissimo fully. His favourite props are clubs. With balls, he practices numbers and siteswaps from time to time, as well as 360s, backcrosses, and endurance runs.
Luca is also known for often attending German juggling conventions. He says that his biggest idols were Manuel Mitasch, Daniel Ledel, and Dominik Harant.
Due to his performance in the TV show Superkids at the age of 14, he enjoys a strong fan base from non-jugglers. Luca Pferdmenges has a verified TikTok account with over 1 million followers. Since 2020, he runs this account with his girlfriend Sophia Robinson as Duo Avo. He follows a vegan diet and speaks 6 languages (German, English, Spanish, French, Hebrew and Indonesian).
He has been featured in the Top 40 Jugglers list five years in a row (2015-2019).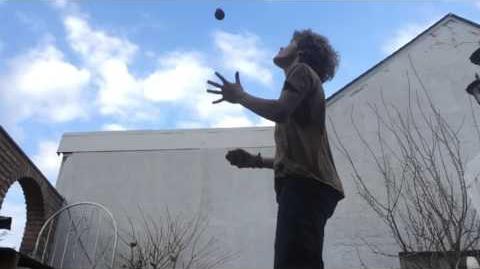 Community content is available under
CC-BY-SA
unless otherwise noted.