Lauge Benjaminsen (born in 1993)[1][2] is a juggler from Silkeborg, Denmark, known for his fast spins. He learned to juggle from a friend in April 2006.[3] Lauge was voted the world's most popular juggler in Luke Burrage's Top 40 Jugglers poll in 2011.[4]
Some spin moves that Lauge has done:
*video doesn't show qualify after the spin
World records
Lauge holds the following world records for siteswaps  with publicly available video evidence:
Unverified claims:
*to a qualify
Competitions
Lauge placed in the following
IJA
and
WJF
competitions.
[5]
[6]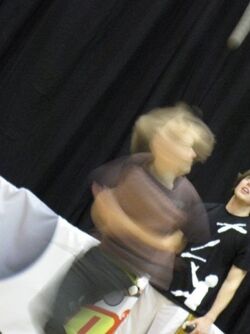 IJA 2010:
Stage: Juniors - 3rd place
eXtreme Juggling: 7+ Balls - 1st place
Joggling: Men's 7 Ball 100 Meters - 1st place
Joggling: Men's 5 Ball 100 Meters - 1st place
WJF 6:
Advanced Balls - 2nd place
5 Ball Freestyle - 2nd place
6 Ball Freestyle - 2nd place
5 Ring Freestyle - 3rd place
6 Ring Freestyle - 1st place
3 Club Freestyle - 3rd place
WJF 7:
Advanced Balls - 2nd place
Advanced Rings - 3rd place
Ball Endurance - 3rd place
Ring Endurance - 2nd place
3 Club 360s - 3rd place
5 Ball Freestyle - 3rd place
7 Ball Freestyle - 3rd place
5 Ring Freestyle - 1st place
6 Ring Freestyle - 1st place
7 Ring Freestyle - 1st place
5 Club Freestyle - 3rd place
4 Club Freestyle - 1st place
Overall Championship - 3rd place
References