Joggling is an activity that combines juggling and running. A joggling competition is a race where the competitors are required to juggle at least 3 objects while running. If an object is dropped, the joggler must return to the point where the object fell and continue from there. A list of joggling world records is maintained at recordholders.org.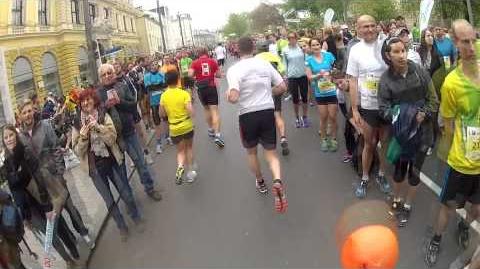 The World Joggling Championships have been held at the IJA festival every year since 1980. The first championships, a 100-yard and a 1-mile three ball joggling race, were organized by Bill Giduz. Several other events have since been added to the Joggling Championships including races up to 5 kilometres, separate divisions for men and women and different age groups, 5 and 7 ball joggling competitions, and relay races in which teammates pass one ball to the next relay runner, who holds two in the handoff zone.
In 2012, Joe Salter became the first person to complete a triathlon while juggling, in 1 hour and 57 minutes. He swam 0.25 miles on his back while juggling three balls overhead, biked 16.2 miles while juggling two balls in one hand, and then joggled for 4 miles with three balls. Later that year Bob and Trish Evans both completed a triathlon while juggling three balls the whole way, using unicycles instead of bicycles.
Community content is available under
CC-BY-SA
unless otherwise noted.