55500

3 ball 3 up flashes

Capacity

3

Period

5

Full period

5

Orbits

3

Composition

Prime

(Ground state)
111 - (5)
11001 - (5)
10011 - (5)
00111 - (0)
0111 - (0)

33300
666600

4 ball 4 up flashes

Capacity

4

Period

6

Full period

6

Orbits

4

Composition

Prime

(Ground state)
1111 - (6)
111001 - (6)
110011 - (6)
100111 - (6)
001111 - (0)
01111 - (0)

444400
7777700

5 ball 5 up flashes

Capacity

5

Period

7

Full period

7

Orbits

5

Composition

Prime

(Ground state)
11111 - (7)
1111001 - (7)
1110011 - (7)
1100111 - (7)
1001111 - (7)
0011111 - (0)
011111 - (0)

5555500
  A flash is a very short run of a juggling pattern where each object is thrown and caught only once, usually from a cold start and to a collect.
Going into 5 throws of a 5 ball trick from a warm start and back to the basic pattern afterwards would also be called a flash of the trick. Flashing a trick can begin with either a cold start or a warm start, and end with either a collect or a re-entry to the basic pattern or another pattern. The term "flash" is also sometimes used for any non-qualifying run where each object is caught at least once.
The highest numbers of props that have been flashed are 14 balls by Alex Barron, 13 rings by Albert Lucas, 12 ball bounce by Alan Sulc, and 9 clubs.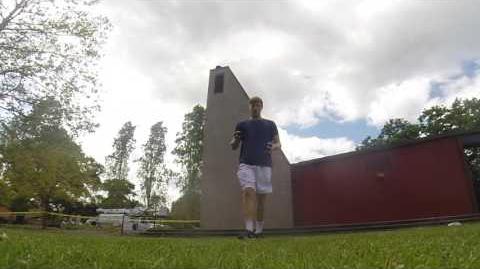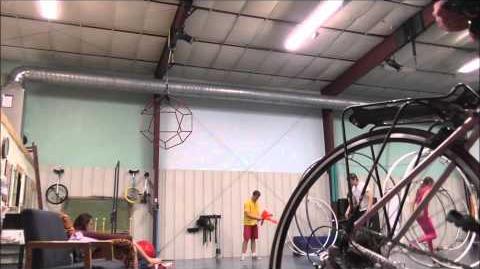 High flash
Edit
A "flash" can also mean throwing all of the props higher than the basic pattern so that both hands are briefly empty (or throwing all but one or two high and pausing briefly).
A high flash can be used as an exercise to prepare for learning to juggle a higher number of objects. Juggle the basic pattern at the same speed you will use for the higher number (possibly slightly faster than the speed you normally use for the number you're juggling now), and keep throwing at the same speed while you do the high flash. If you're preparing for a pattern with two more objects, you should pause for two beats after the flash, before you start throwing again. If the pause is less than two beats long, you need to throw higher or faster. You can clap your hands together while the objects are in the air to make sure your hands are both empty long enough.
You can also do other things such as 360s, 720s, or backflips while the objects are in the air after a high flash.
4 ball 2 up flashes
Siteswap: 6622

4 ball asynch 3 up flashes
Siteswap: 66620

4 ball synch 4 up flashes
Siteswap: (6,6)(6,6)(0,0)

5 ball 3 up flashes
Siteswap: 77722

5 ball 4 up flashes
Siteswap: 777720
Community content is available under
CC-BY-SA
unless otherwise noted.