Enrico Rastelli



Website

Highest numbers juggled
 Enrico Rastelli (1896-1931) was an Italian juggler, considered to be one of the greatest jugglers ever.[1]
Rastelli was born in Samara, Russia into a circus family, on December 19, 1896. His father was Alberto Rastelli, a circus aerialist and juggler. Enrico received rigorous training in a variety of circus disciplines including acrobatics, balancing and aerial skills. He practiced juggling six to twelve hours a day.[2][3]
Rastelli performed as a solo juggler in Circus Truzzi, and then in his father's circus from 1915 to 1917. When World War I and the subsequent Revolution forced them out of Russia, he fled to Italy with his family.[4]
Unlike many of his contemporaries, who performed in the "gentleman juggler" style with objects such as hats, canes, and bottles, Rastelli chose to restrict himself to objects more suited to throwing and catching - typically balls, plates, and wooden sticks - enabling him to achieve a much higher technical skill level. His choice of three simple props is reflected in the props used by most modern jugglers: balls, rings (replacing plates) and clubs (replacing sticks).[3]
For some reason, Rastelli never used the cascade pattern for numbers juggling. He would juggle 6 or 8 objects, but he never juggled 7 objects in his act. He juggled 5 objects by doing 3 in one hand and 2 in the other. When he heard that Pierre Amoros had set a record juggling 9 balls, Rastelli did not bother with 9 balls and directly attempted 10.[2]
On December 13, 1931, at his home in Bergamo, Italy, Rastelli died of an infection from a cut in his mouth, reportedly caused by the mouthstick he used in his act.[2] Several thousand mourners attended his funeral.[4][5] A life-sized statue was constructed in his tomb, depicting Rastelli spinning a ball on his finger.[3]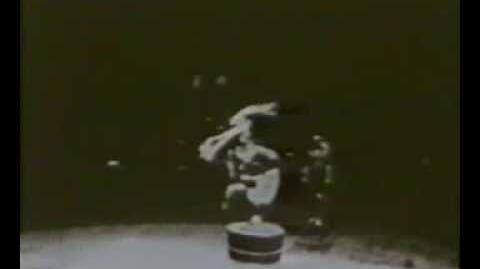 Community content is available under
CC-BY-SA
unless otherwise noted.