(4x,2x)(4,2x)(2x,4x)(2x,4)

3 ball double box

Capacity

3

Period

8

Full period

8

Orbits

3

Composition

(1,1)(0,1) - (4x,2x)
(1,1)(0,1) - (4,2x)
(1,1)(1,0) - (2x,4x)
(1,1)(1,0) - (2x,4)

(3x,2x)(3,2x)*
(4x,2x)(4x,2x)(4,2x)(2x,4x)(2x,4x)(2x,4)

3 ball triple box

Capacity

3

Period

12

Full period

12

Orbits

3

Composition

(1,1)(0,1) - (4x,2x)
(1,1)(0,1) - (4x,2x)
(1,1)(0,1) - (4,2x)
(1,1)(1,0) - (2x,4x)
(1,1)(1,0) - (2x,4x)
(1,1)(1,0) - (2x,4)

(3x,2x)(3x,2x)(3,2x)*

(4x,2x)(4x,2x)(4x,2x)(4x,2x)(4,2x)(2x,4)
(4x,2x)(4x,2x)(4x,2x)(4,2x)(2x,4x)(2x,4)
The double box (also called an extended box) is a variation of the 3 ball box. In siteswap notation, the double box is (4x,2x)(4,2x)*, which means a shower pattern (4x,2x) with a non-crossing throw on every other beat, which makes the shower change direction on the next beat. Keeping the 4x ball in a column in the middle and throwing the 4s in two more columns on the sides gives the pattern the shape of two boxes next to each other. Before you learn the double box you should already be good at the normal box, and showers in both directions.
Variations
Edit
You can add more shower beats to make patterns with more than two boxes, such as the triple box - siteswap (4x,2x)(4x,2x)(4,2x)*.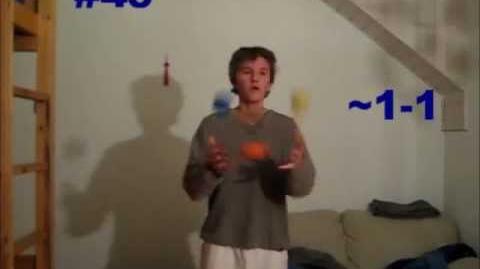 Community content is available under
CC-BY-SA
unless otherwise noted.