David Cain is a world champion juggler who does a Christian juggling ministry full-time.[1] He is a Guinness world record holder and currently has over 20 world records.[2]
David was born in 1969, and he taught himself to juggle when he was 12. David has been juggling professionally for over 37 years.[3] He has mastered many forms of object manipulation, and is considered by many to be the most versatile juggler in the world.[1] He specializes in club juggling, ball spinning, ball bouncing, boomerang juggling, and original combination tricks. He was the first person in history to perform an 8 stick flash in his act.[4]
David helped develop the rules for the International Jugglers' Association Numbers Championships,[5] and has won 15 Gold medals from the IJA. He has performed on television numerous times, and written ten books about creative ways of sharing the Gospel. He has also written thirteen books about juggling history and a book of funny anecdotes from this performing career. Juggler's World Magazine has called David one of the "World's Finest Jugglers." David is also one of the top juggling historians in the world. He is the owner of the Museum of Juggling History, the largest collection of historic juggling props in the world.
David appears in the 2014 Guinness World Records book with his picture included on the inside of the front cover and one of his records appearing in the juggling section of the book. In 2015, David became only the tenth person in history to be awarded the IJA's Bobby May Award, recognizing him as one of the world's top juggling mentors and coaches. David was featured on the Top 40 Most Popular Jugglers list in 2017.[6] In 2019, David was given the IJA Excellence in Education Award in honor of his juggling history work, including his books, articles, and live performances.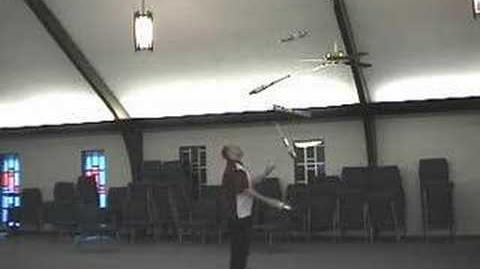 David won the following IJA competitions.[7]
1993:
1994:
1995:
1996:
1997:
1998:
1999:
2000:
2008:
David has also won numerous other competitions, such as the 2015 Groundhog Day Juggling Competition and the Anthony Gatto 4 Club competition in 2008. On June 6th, 2013, David and his twin brother Scott were crowned America's Most Talented Twins by winning the Quest For The Best talent competition on NBC's TODAY Show.[2]
Community content is available under
CC-BY-SA
unless otherwise noted.