Jurassic World: Dominion Dominates Fandom Wikis - The Loop
Play Sound
3

3 ball cascade

Capacity

3

Period

1

Full period

3

Orbits

1

Composition

Prime

(Ground state)
111 (3)

3

Self-dual
5

5 ball cascade

Capacity

5

Period

1

Full period

5

Orbits

1

Composition

Prime

(Ground state)
11111 (5)

5

Self-dual
7

7 ball cascade

Capacity

7

Period

1

Full period

7

Orbits

1

Composition

Prime

(Ground state)
1111111 (7)

7

Self-dual
  The cascade is one of the four basic patterns in solo juggling (cascade, asynch fountain, synch fountain, and wimpy), and can be done with any odd number of objects. Each object is thrown at an angle, moving across from one hand to the other, with the hands throwing in an even, alternating rhythm. Each object is thrown to the same height as the previous one, and the pattern with three objects has at any point one or two objects in the air and at least one in the jugglers hands. The pattern may be made higher and/or faster for more objects such as a 5 ball cascade. A cascade is represented in siteswap notation as a single odd number.
The highest number of objects that have been qualified (at least twice as many catches as objects) in a cascade is 11 balls, and the highest number of objects that have been flashed (same number of throws and catches as objects) in a cascade is 13 balls. The world record for the longest run of any juggling pattern is 12 hours and 5 minutes of a 3 ball cascade by David Slick.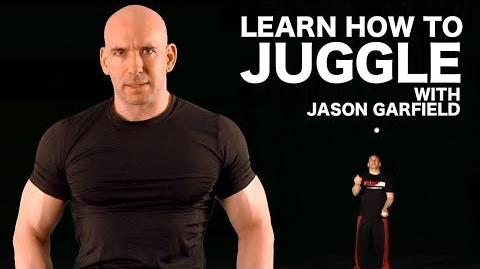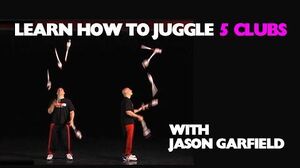 Siteswap exercises
[
]
You can use these exercises to practice the same kind of throws that are done in this pattern, before you learn the full pattern.
Some of the siteswaps listed below are shortened to leave out parts where you're not doing anything. Click on them to see animations of the exercises.
You should practice doing these starting with your right hand and with your left hand, so that you will be ready to learn the full symmetrical pattern.
3 ball cascade:
Exercises to prepare for 3:
5 ball cascade:
Prerequisites: 552
Exercises to prepare for 5:
7 ball cascade:
Prerequisites: 77772
Exercises to prepare for 7:
Variations
[
]