For other kinds of "blind catches" made behind the back, see Reverse backcrosses and Reverse shoulder throws.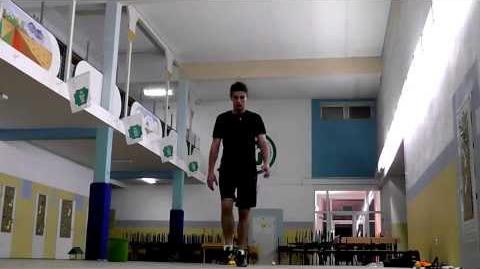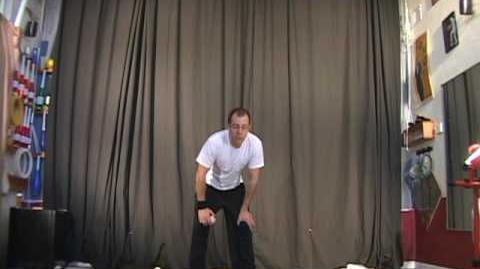 A blind catch (also called an ass catch) is a trick where an object is thrown from in front of the body and goes back over the juggler's head, and then the juggler bends down, reaches between the legs from front to back, and catches the object behind the back while keeping both feet on the ground.
Blind catches are normally done one at a time, rather than in a continuous pattern. Before making the blind catch (but after throwing that object), all (or all but one) of the other objects are thrown high to make time to bend over, do the blind catch, and stand up before resuming the pattern. The object that will be caught as a blind catch doesn't need to be thrown as high as the others, but throwing it a little higher than the basic pattern gives you time to make sure the high throws are accurate before bending down.
A body throw in reverse would be something like a blind catch, except the object would go back on a wider path, going over or around the shoulder instead of straight back over the head (called a "quasi-blind catch"). The term "reverse body throws" is usually used for a different trick, where a club is thrown between the legs from back to front.
World records
Edit
These are the world records for doing blind catches while juggling the highest number of each type of prop, with publicly available video evidence. The pattern must be qualified after the blind catch. Catches of throws made before doing the blind catch are not counted as part of the qualify.
Variations
Edit
Community content is available under
CC-BY-SA
unless otherwise noted.