Balancing involves keeping a prop (in a vertical position) on your face or other part of your body by constantly adjusting it to keep the prop from falling. Balls and rings are usually balanced on the forehead. Clubs can be balanced on the chin, nose, or forehead. When you have enough control over the balance, it's possible to juggle at the same time.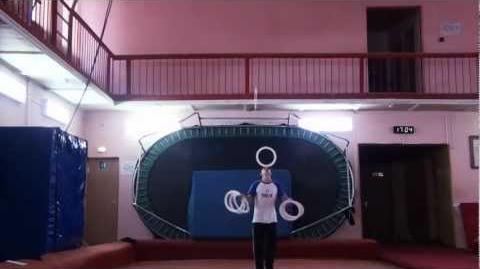 Don't try to juggle with a balance until you have complete control over the juggling and the balancing separately. Then re-learn the juggling with the balance.
Focus on the top of the balanced object and use tiny movements to keep it as still as possible. Try not to move your feet or lean or twist your body.
When you juggle while balancing, focus mostly on the balance.
World records
Edit
Records listed on this page must be done while doing a dynamic balance (the kind of balance that requires continual adjustment to maintain) on the face. Ball balance records must be done with a large ball.
Records for juggling while balancing with publicly available video evidence:
Records with insufficient video evidence:
Unverified claims:
3 clubs with club balance: 18 minutes and 33 seconds by Raul Canaz in 2020 (video)
Records with insufficient video evidence:
5 clubs with club balance: 2 minutes and 32 seconds by Christof Buch in 2017 (video is not visible to the public)
8 clubs with club balance: 8 catches by Willy Colombaioni in 2015 (video no longer available)
Community content is available under
CC-BY-SA
unless otherwise noted.