Anthony Commarota (born April 14, 1973), known by his stage name Anthony Gatto,[1][2][3] is an American juggler who is regarded as the most skilled juggler in the world.[4] He was voted the world's most popular juggler in Luke Burrage's Top 40 Jugglers poll in 2003 and 2005,[5][6] and he has been in the top 40 every year since the chart began in 2003 except 2016, 2019, and 2020.[7] He is the only juggler who has ever won the Golden Clown award at the International Circus Festival of Monte-Carlo.[8]
Anthony was born in Manhattan, New York, and grew up in Ellicott City, Maryland.[9] He started juggling when he was about four years old, and was coached by his stepfather, Nick Gatto.[1][10] He won the IJA Junior Championship at the age of eight in his first year competing.[9][11] Anthony began performing professionally in Las Vegas at age ten. He has performed in the Cirque du Soleil shows Kooza (2007-2009) and La Nouba (2010-2012).[12][13]
Anthony has quit juggling[14] and now runs a concrete resurfacing business,[1][15] which he started in August 2012.[16][17][18]
World records
[
]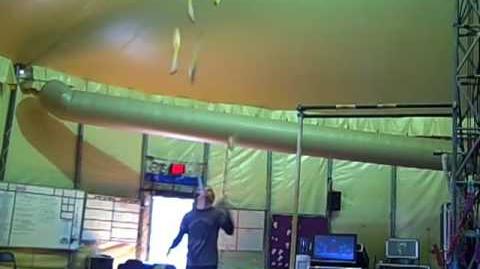 Records verified by JISCON:[19]
Records with publicly available video evidence:
7 clubs isolated: 238 catches in 2011 (video)
7 clubs with ball balance: 43 catches in 2007 (video at 2:50)
7 clubs with club balance: 44 catches in 2006 (video)
7 clubs with head bounce: 28 catches in 2009 (video)
2 ball head bounce: 62 bounces in 2006 (video at 1:13:42)
Most 7 ball 7 up 360s in 1 minute: 10 in 2008 (video)
Most 7 ring 7 up 360s in 1 minute: 10 in 2008 (video at 1:17)
Unverified claims:[20]
9 balls: 348 catches
9 rings: 272 catches
10 rings: 64 catches
11 rings: 22 catches
9 ball overheads: 9 catches (claim)
360 qualified with the most rings: 9 rings, 7 up in 2000 (claim)
5 clubs with pole balance: 2 minutes in 2000 (claim)
Competitions
[
]
Anthony won the following IJA competitions.[21]
1981 (age 8):
1983:
1986:
Numbers: Solo Balls
Numbers: Solo Rings
Numbers: Solo Clubs
1989:
Numbers: Solo Balls
Numbers: Solo Rings
Numbers: Solo Clubs (first person ever to juggle 7 clubs for over 100 catches in competition - age 16)
1991 (age 18):
Numbers: Solo Balls (IJA competition record: 60 catches of 9 balls)
Numbers: Solo Rings (43 catches of 9 rings, a new IJA competition record at the time, broken in 1996 by Albert Lucas with 20 catches of 10 rings)
Numbers: Solo Clubs (IJA competition record: 230 catches of 7 clubs)
References
[
]