Albert Lucas (born in 1960) is an American juggler known for his numbers juggling, juggling while ice skating, and promoting the sport of joggling.[1] He learned to juggle when he was three and started performing at age four.[2] Albert is the only person who has flashed 13 rings,[3] and the only person who has qualified 10 object toss juggling in competition.[4] Since 1988, the IJA has awarded the Lucas Cup, a trophy named after and designed by Albert Lucas, to the Individuals Stage champion each year.[5]
World records
Edit
Albert juggled 10 rings for 20 catches in the numbers competitions at the IJA Summer Festivals in 1996(video) and 2002. That is the current record for numbers juggling with rings in competition.[4] It was also the world record for 10 rings[6] until Anthony Gatto did 25 catches in 2000.[7] Albert quickly regained the record with 26 catches,[8] but Anthony broke it again in 2001 with 27 catches,[9](video) and currently holds the world record for 10 rings with 47 catches.[10]
Albert became the second person after Anthony Gatto to flash 12 rings on video in 1996,[3][11] and he is rumored to have qualified 12 rings.[12]
Albert flashed 7 rings in one hand on video in 2000. Willy Colombaioni surpassed this record in 2017.(video)
In 2002, Albert flashed 13 rings in a synch 14 ring pattern: (e,e)(e,e)(e,e)(e,e)(e,e)(e,e)(e,0), starting with 8 rings in his hands and 5 in holsters. The video was validated by JISCON[3] and shown to jugglers at the IJA festival in 2002.[13]
Albert has claimed to have flashed 14 rings on video, but he didn't want to share the video because it didn't show the whole pattern.[13] He has attempted to set the record publicly at EJC in 2000[14][15] and on the BBC show Record Breakers in 2001.[16][17] In 2013, Albert showed a video of a 14 ring flash (with an edit in the middle) to jugglers at the Japan Juggling Festival.[18]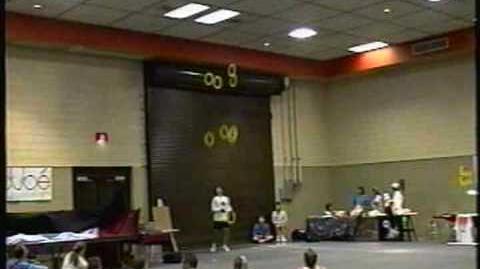 Competitions
Edit
Albert won the following IJA competitions.[19]
1970:
Numbers competition (7 rings for 61 seconds, at age 10)[20]
1984:
Numbers: 7 objects
Numbers: 5 clubs
Numbers Challenge: Rings
1988:
1994:
Joggling: Men's 100 meters
Joggling: Men's 1 mile
1996:
Joggling: Men's 100 meters
Joggling: Men's 1 mile
2000:
Joggling: 100 meters
Joggling: 400 meters
2002:
Joggling: 5 ball 100 meters
Kit Summers' 1987 book, Juggling with Finesse, describes a club juggling trick where the clubs go between the legs from front to back while both feet stay on the ground. In his book, Kit named this trick after Albert Lucas, calling it "Alberts", because Albert was the first person he had seen doing that trick, although Albert was not the inventor of the trick.[21][22][23] Kit called a variation of this trick where the clubs go between the legs from back to front "Treblas" ("Trebla" is "Albert" spelled backwards).[24] In 2000 Jason Garfield, who disapproved of people giving Albert credit for a trick he didn't invent, introduced a new name for the trick, "crotch throws", and later the euphemism "body throws".[25]
References
Edit