855

6 ball 1 high 2 low

Capacity

6

Period

3

Full period

18

Orbits

2

Composition

Prime

(Ground state)
111111 - (8)
11111001 - (5)
1111101 - (5)

655
 855 is a symmetrical 6 object siteswap. The 8s are non-crossing throws about twice as high as the fountain. The 5s are crossing throws, a third of the height of the 8s. This is the 6 object version of 633.
Siteswap exercises
Edit
You can use these exercises to practice the same kinds of throws and sequences of throws that are done in this pattern, before you learn the full pattern.
Some of the siteswaps listed below are shortened to leave out parts where you're not doing anything. Click on them to see animations of the exercises.
You should practice doing these starting with your right hand and with your left hand, so that you will be ready to learn the full symmetrical pattern.
Prerequisites: 6 ball fountain, 83333, 852, 825
Exercises to prepare for 855:
Variations
Edit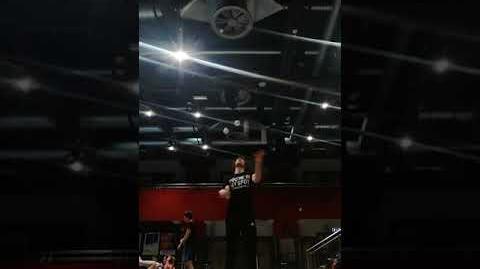 Community content is available under
CC-BY-SA
unless otherwise noted.