753

5 ball high-middle-low

Capacity

5

Period

3

Full period

12

Orbits

3

Composition

Prime

(Ground state)
11111 - (7)
1111001 - (5)
111011 - (3)

543

Self-dual
 753 is a symmetrical 5 object siteswap where all the throws cross. The first throw (a 7) is more than twice as high as the cascade, the second throw (a 5) is the same height as the cascade, and the third throw (a 3) is about a quarter of the height of the cascade. All three of these throws should peak at the same time. All the 3s are done with the same object.
Before learning this pattern, you should already be good at 7531 (starting from both sides), 750, 723, 744, 663, and 7535 (starting from both sides).
Video: 5 club 753 in helicopters by Chris Hodge
Video: 5 ball 753 in Mills Mess by Dominik Braun
Variations
Edit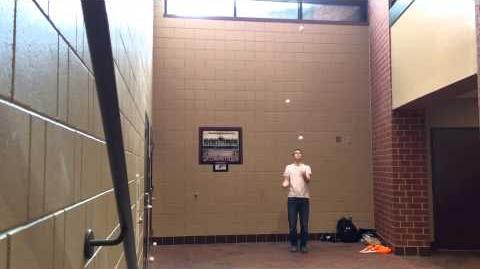 Community content is available under
CC-BY-SA
unless otherwise noted.