534

4 ball high-low-middle

Capacity

4

Period

3

Full period

9

Orbits

2

Composition

(Ground state)
1111 - (5)
11101 - (3)
1111 - (4)

434

Self-dual
 534 is a symmetrical 4 object siteswap. The first two throws cross, with the first throw (a 5) going about twice as high as the basic pattern, and the second throw (a 3) about half the height of the basic pattern. The third throw (a 4) is a non-crossing throw, the same height as the throws in the fountain. Then the same three throws are repeated on the other side: if the right hand threw the first 5, now the left hand throws the next 5. All the 3s are done with the same object.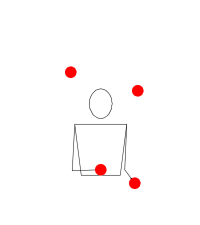 Before learning 534, you should already be good at the 4 ball fountain and 53 (starting from both sides), and the 3 ball patterns 531, 504, and 5340 (starting from both sides).
Video: 4 ball 534 with the 3s blind behind the back and behind the neck by Haavard Hvidsten
Video: 4 club 534 with backcrosses and shoulder throws by Vova Galchenko
Variations
Edit